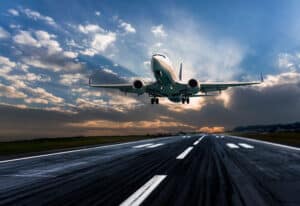 Since the first US commercial flight in 1914, the air travel industry has drastically changed.  Flying, once considered risky and reserved for the elite, is now available to almost anyone.
Some lament the early days of flying, calling it the "golden era of air travel."  Seats had more leg room, fliers dressed to the nines, and hot meals were served.  Until the 1970s, security at airports was practically non-existent.  Passengers went from the parking lot to the plane in less than 30 minutes.
The aviation industry, a major player in the US economy, comprises between 4% and 5% of the GDP.   The frequency of flights taken has risen in recent years, as flying is no longer just for the wealthy.  According to an International Air Transport Association (IATA) report from late 2017, there were about 3.8 billion air passengers in 2016. That number will steadily balloon to 7.2 billion by 2035.  The IATA predicts that most growth will occur in Asia.
With an increase in fliers, airports have had to evolve.  Security lines and delays force passengers to wait for their flights.  Passengers demand to be entertained from the moment they pass through security to the moment they land.  Airports must have a variety of shops, bars, and restaurants.  At some airports, whole terminals have been converted into shopping malls.
Inflight entertainment is vital to passengers.  On many flights, passengers can watch movies, TV, or even play games on the back of the seat in front of them.  Airlines such as American, Delta, Southwest, and United offer wireless streaming.  Some airlines, such as JetBlue, offer free Wi-Fi upon the aircraft.
Until recently, many believed long lines were here to stay.  The rise of smartphones has changed that and made for a much smoother process.  According to SITA, a UK-based air transport communications and technology company, 83% of passengers carry smartphones.  With a mobile boarding pass, a passenger can go straight from the parking lot to security.  Mobile boarding passes are more secure than their paper cousins and are almost impossible to lose.
Airlines use mobile apps and social media to update passengers on all aspects of their flight from security line wait times to delays and gate changes.  All major airlines have a social media presence today.  Passengers no longer need to wait through busy signals and long hold times to speak with an airline representative.  On social media, dedicated social media employees respond to passengers with concerns quickly.
The main factor behind the increase in flying is a decrease in prices.  In 1970, the percentage of people who have every flown was less than 50%. That percentage rose to over 80% in 2015 due to affordability of flights. Total cost is usually the deciding factor for passengers when choosing an airline.  Fees for checked items and other add-ons play a key role.
Many believe that the decrease in airfare prices has created a decline in customer service.  Airlines employ fewer workers due to technology. Many passengers believe it is hard to get hold of an airline employee who can address the concerns they have.
Passengers complain of a lack of legroom on board.  Seat Guru reports that legs have as much as two inches less space compared with a decade ago.
Henry H. Harteveldt, President of the Atmosphere Research Group, a travel industry research firm, explains "Consumers have shown that they're willing to put up with an awful lot, including lack of legroom, lack of amenities, mediocre or worse customer service, dirty airplanes, and more to save money, and the airline industry has evolved to meet that desire."
Matthew DeBord, correspondent for Business Insider, states airlines have "spent decades training the public to expect next to nothing in the way of service."  TripAdvisor, the travel review site, recently started reviewing airlines.  The hope is for passengers to become more concerned with customer service, forcing airline companies to increase focus on it.
Commercial air travel is much different than it was at its birth.  Some is for better, some for worse.  Passengers may complain about the annoyances of flying, but it is currently the safest form of transportation and will likely only improve.