By: Kyle Jennings
Marketing is fast paced and always changing.  Marketing teams must constantly alter their strategies to get the edge over competitors.
How we market has changed drastically.  The internet gives consumers and businesses access to endless information, diminishing the need for salespeople.  Marketing's focus is moving away from just interpersonal approaches.
Companies are at a marketing standstill; they are not sure what works.  According to Adobe, only 40% of companies believe their marketing is effective.  Marketing professionals have taken on the role as researchers, discovering new strategies to reach their target audiences.
Here Are The 8 Major Changes In Marketing We've Witnessed: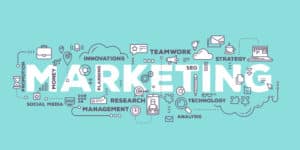 Interruptive phone calls and mass emails have become ineffective. Marketing teams are turning their attention to digital marketing.  Expensive television ads are replaced with internet campaigns which are conducted at a much lower cost.  Mobile-friendly websites have become imperative.
The rise of social media and the internet has leveled the playing field. Virtually anyone can effectively market on social media at a very low cost.  Social media communications must be continuous, holidays and weekends included.  Customers expect immediate responses to their inquiries.  Marketing has evolved to 24×7.
Online reviews are very influential and can make or break a company. A HubSpot study discovered that consumers reach out on social media to compliment a brand more often than to criticize it. Reviews benefit the company and the customers. Reviews give customers a chance to see the opinions of others, and also give the company instant feedback.
Video is gaining popularity in marketing. Nearly three quarters of us are visual learners; we would rather watch than read.  HubSpot estimates that video will claim 80% of all web traffic by 2019.  Customers often share videos on social media.  Today's smartphones can show professional-quality videos, making video much more accessible.
Companies with the most advertising were once the companies that thrived. Now having targeted content is key.  Traditional online ads where one ad is used for all viewers are less effective.  Companies focus on bringing the best targeted content to its specific audiences.  Web analytics instantly reports the results of marketing campaigns, showing which strategies work best.  J. Agrawal, in a February 2016 Inc Magazine article, compared not using analytics to shooting in the dark.
Internet Live Stats, part of the Real Time Statistics Project, reports over 6 billion searches occur daily across the globe with over 77% of them on Google. Google processes over 40,000 search queries every second.  Search engine optimization (SEO), or optimizing a website so that it appears towards the top of results, is essential.   Viewers rarely scroll past the first results page.
Videos, links, FAQ's and blog posts are tactics which improve a website's SEO. Surprisingly, long articles are favored over short ones.  Increasingly, journalists work in marketing departments rather than at traditional, and declining, news outlets.  Journalists are trained in research and in writing articles that are not "drawn out," but informative, attention-grabbing pieces.
Public image is significant in today's world. Charity gives companies a positive image, while benefiting the community.  The work the charity does is often related to the company's work.
It is an exciting time for marketing.  The industry is fast-paced and oftentimes challenging.  The most effective marketing strategies today will change as technology and buyers continue to evolve.